Another month,another meme.
For our monthly Author Appreciation post(where we feature an author who  is inspiring not just because they wrote a book but because they're a decent human being) we are featuring J. K. Rowling, first of her name, Queen of awesomeness, author of the beloved Harry Potter series, all time decent person and mother of the Wizarding World.
Unless you live in Mars, everyone who has some wits knows who this woman is. But if you don't,then let me introduce you to the most amazing author that ever graced this planet.
Joanne K. Rowling is the author of the best selling series, Harry Potter.
She's also the type of person that will just inspire you to do good and be best that you can be. Most of us owe this woman our childhood and I am excited to share to you why J.K Rowling is the next best thing after fluffy kittens and unlimited pizza.
"Reasons why Joanne K. Rowling is just perfect"
She is wise.
2. She supports the LGBT community. 
3. She doesn't give a fuck whether society thinks she's cool or what. She do things because she wants to.
4. That sense of humor and chill is intense.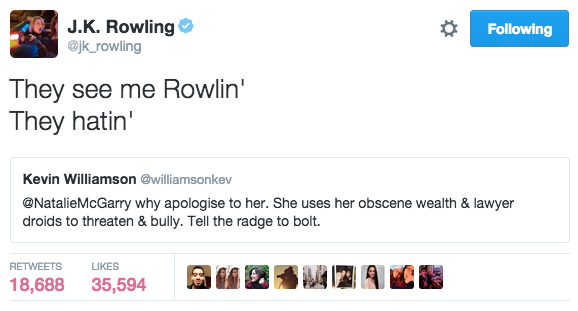 5.She knows the struggle of a reader
6. She values self-worthiness 7. SHE CARES!!!
She sent a letter from "Dumbledore" to a little girl who lost her family in a gun massacre.
8. The Queen is generous.
She lost her billionaire status because she gives a lot to charities.
9.She knows how it feels like to have depression and she's not afraid to help those who are battling it.
10. She created the Harry Potter series.Like how cool is that?
All in all, J.K Rowling totally rocks. We owe this woman a lot of things.