It's that time of the week again and this week's theme is gateway books into our favorite genre! Top 5 Wednesday is a weekly meme hosted by Sam @ Thoughts on Tomes and created by Lainey @ Ginger Reads Lainey. They have a Goodreads groups that you can join to check out their monthly topics!
Because October is almost here, I decided to choose the Horror (Ghost/Zombies/Mosnters) genre. I decided to post my favorite horror books in here because I love recommending them to others and if you have read them and liked them, then we should fangirl together ♥ .
5.  Anna Dressed in Blood by Kendare Blake
 Cas Lowood has inherited an unusual vocation: He kills the dead.
So did his father before him, until he was gruesomely murdered by a ghost he sought to kill. Now, armed with his father's mysterious and deadly athame, Cas travels the country with his kitchen-witch mother and their spirit-sniffing cat. They follow legends and local lore, destroy the murderous dead, and keep pesky things like the future and friends at bay.
Searching for a ghost the locals call Anna Dressed in Blood, Cas expects the usual: track, hunt, kill. What he finds instead is a girl entangled in curses and rage, a ghost like he's never faced before. She still wears the dress she wore on the day of her brutal murder in 1958: once white, now stained red and dripping with blood. Since her death, Anna has killed any and every person who has dared to step into the deserted Victorian she used to call home.
Yet she spares Cas's life.
This was my first YA horror book and I've been a fan of ghosts stories ever since. I really love the characters and each of their story was written really well. This is also not a typical ghost story . Anna's character was 3 dimensional that you can't just call her a ghost and leave it at that.She's badass, she's mean, she's lonely and she's amazing. 
4. Lockdown by Alexander Gordon Smith
Furnace Penitentiary: the world's most secure prison for young offenders, buried a mile beneath the earth's surface. Convicted of a murder he didn't commit, sentenced to life without parole, "new fish" Alex Sawyer knows he has two choices: find a way out, or resign himself to a death behind bars, in the darkness at the bottom of the world.
Except in Furnace, death is the least of his worries. Soon Alex discovers that the prison is a place of pure evil, where inhuman creatures in gas masks stalk the corridors at night, where giants in black suits drag screaming inmates into the shadows, where deformed beasts can be heard howling from the blood-drenched tunnels below. And behind everything is the mysterious, all-powerful warden, a man as cruel and dangerous as the devil himself, whose unthinkable acts have consequences that stretch far beyond the walls of the prison.Together with a bunch of inmates—some innocent kids who have been framed, others cold-blooded killers—Alex plans an escape. But as he starts to uncover the truth about Furnace's deeper, darker purpose, Alex's actions grow ever more dangerous, and he must risk everything to expose this nightmare that's hidden from the eyes of the world.
Lockdown is more like a combination of The Maze Runner and The Escape Plan. Imagine being locked in jail where monsters are real. This book gave me goosebumps and the series was getting better and better.
3. Slasher Girls and Monster Boys by April Genevieve Tucholke
For fans of Stephen King, Neil Gaiman, Lois Duncan, and Daphne Du Maurier comes a powerhouse anthology featuring some of the best writers of YA thrillers and horror
A host of the smartest young adult authors come together in this collection of scary stories and psychological thrillers curated by Between the Devil and the Deep Blue Sea's April Genevieve Tucholke.
Each story draws from a classic tale or two—sometimes of the horror genre, sometimes not—to inspire something new and fresh and terrifying. There are no superficial scares here; these are stories that will make you think even as they keep you on the edge of your seat. From bloody horror to supernatural creatures to unsettling, all-too-possible realism, this collection has something for any reader looking for a thrill.
Fans of TV's The Walking Dead, True Blood, and American Horror Story will tear through tales by these talented authors:
Stefan Bachmann
Leigh Bardugo
Kendare Blake
A. G. Howard
Jay Kristoff
Marie Lu
Jonathan Maberry
Danielle Paige
Carrie Ryan
Megan Shepherd
Nova Ren Suma
McCormick Templeman
April Genevieve Tucholke
Cat Winters
I'm a fan of anthologies and this one is the best YA Anthology book ever published. This book has a lot of great authors who wrote hell-raising books.
2. Say Her Name by James Dawson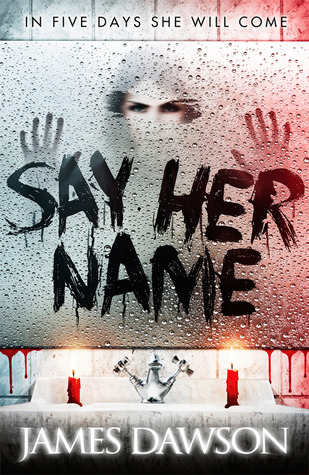 Roberta 'Bobbie' Rowe is not the kind of person who believes in ghosts. A Halloween dare at her ridiculously spooky boarding school is no big deal, especially when her best friend Naya and cute local boy Caine agree to join in too. They are ordered to summon the legendary ghost of 'Bloody Mary': say her name five times in front of a candlelit mirror, and she shall appear… But, surprise surprise, nothing happens. Or does it?
Next morning, Bobbie finds a message on her bathroom mirror… five days… but what does it mean? And who left it there? Things get increasingly weird and more terrifying for Bobbie and Naya, until it becomes all too clear that Bloody Mary was indeed called from the afterlife that night, and she is definitely not a friendly ghost. Bobbie, Naya and Caine are now in a race against time before their five days are up and Mary comes for them, as she has come for countless others before… A truly spine-chilling yet witty horror from shortlisted 'Queen of Teen' author James Dawson.
Been a fan of Bloody Mary ever since I watched that horror movie when I was a kid. So far, this book has the best story about Bloody Mary and it deserves all the five star in the world.
The Girl From The Well by Rin Chupeco
You may think me biased, being murdered myself. But my state of being has nothing to do with the curiosity toward my own species, if we can be called such. We do not go gentle, as your poet encourages, into that good night.
A dead girl walks the streets.
She hunts murderers. Child killers, much like the man who threw her body down a well three hundred years ago.
And when a strange boy bearing stranger tattoos moves into the neighborhood so, she discovers, does something else. And soon both will be drawn into the world of eerie doll rituals and dark Shinto exorcisms that will take them from American suburbia to the remote valleys and shrines of Aomori, Japan.
Because the boy has a terrifying secret – one that would just killto get out.
The Girl from the Well is A YA Horror novel pitched as "Dexter" meets "The Grudge", based on a well-loved Japanese ghost story.
THE JAPANESE HAS THE BEST HORROR STORIES EVEEEER. This book is an auto-rec when it comes to horror books and it freaking deserves all the love that I have for it. I can't get over this book and this will be a must read on Halloween. 
So there it is. My Top Five Gateway Books to YA Horror. Have you read any horror books that you want to recommend? If yes, feel free to drop them and I'll check them out. ❤